Jurassic World: Dominion Dominates Fandom Wikis - The Loop
Play Sound
Ore Monogatari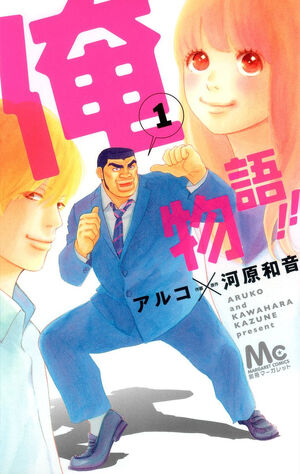 Information
Title
俺物語!!
Author
KAWAHARA Kazune & Aruko
Original Run
October 1, 2011 – July 13, 2016
Publisher
Betsuma (Shueisha)
Volumes
13 (52 Chapters)
Genre
Comedy / Drama / Romance / Shoujo / Slice of Life
Ore Monogatari!! (俺物語!!, My Love Story!!) is a Japanese manga series written by KAWAHARA Kazune and illustrated by Aruko.
Plot
[
]
Gouda Takeo is a giant guy with a giant heart. Too bad the girls don't want him! (They want his good-looking best friend, Sunakawa.) Used to being on the sidelines, Takeo simply stands tall and accepts his fate. But one day when he saves a girl named Yamato from a harasser on the train, his (love!) life suddenly takes an incredible turn!
History
[
]
The manga started as 2 part oneshot, published in Bessatsu Margaret Sister spin-off magazine in October 2011. Due to the success, the manga was picked and continued as series in the main magazine Bessatsu Margaret in the middle of 2012.
On the 2013 edition of This Manga Is Amazing! (このマンガがすごい!, Kono Manga ga Sugoi!) guidebook, Ore Monogatari won the first place for Female Readers, a surveys conducted among professionals in the fields of manga and publishing. On the 2014 edition, Ore Monogatari took 15th place for the Female Readers.
Ore Monogatari was one of the 11 nominated for the Manga Taisho 2013 awards (マンガ大賞2013, Cartoon Grand Prize 2013). The rest nominees were: Ansatsu Kyōshitsu, Umimachi Diary, The Bride's Stories, Terra Formars, Sanzoku Diary, Ningen Karimen-chū, Hi Score Girl, Bokura no Funka-sai, Ballroom e Yōkoso & Kui Ryōko Sakuhin-shū: Seven Little Sons of the Dragon. The nominating committee is composed mainly of bookstore staffers and any manga title that was released in 2012 and has eight volumes or less is eligible. The winner was announced in March 2013 to be Umimachi Diary, while Ore Monogatari took 5th place.
Ore Monogatari also won the 37th Kodansha Manga Awards for Best Shoujo Manga category. The winners were honored in a ceremony on July 2 at the Imperial Hotel in Tokyo's Chiyoda Ward. Each winner received 1 million yen (about US$10,100). Yuma Ando (Psychometrer), Miwa Ueda (Peach Girl), Tohru Fujisawa (GTO), Kousuke Fujishima (Oh My Goddess!), Takeshi Maekawa (Ironfist Chinmi), Akemi Matsunae (Renai Naika 25 Ji), and Norifusa Mita (Dragon Zakura) formed the seven-member judging committee.
Ore Monogatari won the 1st place in Da Vinci's "Book of the Year" for the first half of 2013, revealed in the July issue of Media Factory's book and manga news magazine "Da Vinci". A group of 1,020 voters including professional book reviewers, bookstore employees, and Da Vinci readers selected the lists for the first half of the year.
In June 2013, a crossover chapter with another Bessatsu Margaret series, Ao Haru Ride, named Ore Ride was released in the 2013-07 issue. Couple months later in September, Ore Monogatari had another crossover, but this time with Shonen Jump series Nisekoi, named Ore Koi. A "boys side" chapter was released in the 2013-41 issue of Shonen Jump, while a "girls side" chapter was released in the Bessatsu Margaret 2013-10 issue.
In October 2013, Viz Media announced at its New York Comic Con panel that it have licensed Ore Monogatari manga under the name My Love Story!!.
In November 2014, the December issue of Bessatsu Margaret revealed that an anime adaptation of Ore Monogatari have been granted. A 24-episode anime adaptation started on April 2015, directed by Asaka Morio at Madhouse Studio.
In the Spring 2015 edition of Bessatsu Margaret Sister, Ore Monogatari received tribute illustrations by several artist, congratulating it for the anime adaptation start. Karuho Shiina (Kimi ni Todoke), Io Sakisaka (Ao Haru Ride); Eiichiro Oda (One Piece); Yuki Suetsugu (Chihaya Furu); Makoto Yukimura (Vinland Saga); Kengo Hanazawa (I Am a Hero) & Kenichi Tachibana (Terra Formars)
Manga Guide
[
]
Volumes
[
]
#
Release date
Volume
1
March 23, 2012
July 1, 2014

Volume 1

List of Chapters:
Synopsis:

Takeo Goda is a GIANT guy with a GIANT heart. Too bad the girls don't want him! (They want his good-looking best friend, Sunakawa.) Used to being on the sidelines, Takeo simply stands tall and accepts his fate. But one day when he saves a girl named Yamato from a harasser on the train, his (love!) life suddenly takes an incredible turn! Takeo can hardly believe it when he crosses paths with Yamato again, and he finds himself falling in love with her… But with handsome Sunakawa around, does Takeo even stand a chance?

2
August 24, 2012
October 7, 2014

Volume 2

List of Chapters:
Synopsis:

New at love, Takeo and Yamato excitedly begin their romantic relationship…but between friends who badmouth Takeo and a judo tournament that will separate the two for a month, are they going to survive as a couple beyond the honeymoon stage?

3
February 25, 2013
January 6, 2015

Volume 3

List of Chapters:
Synopsis:

A trip to the mountains means unexpected surprises and adventure for Takeo and Yamato—especially when they get lost! As night falls, will they spend the evening together alone? More importantly, who will be the first one to make a move?!

4
August 23, 2013
April 7, 2015

Volume 4

List of Chapters:
Synopsis:

Sunakawa's older sister, Ai, has had a secret crush on Takeo since she was little. But Hayato Oda, someone who goes to the same collage as her, is making some aggressive romantic advances. Can Ai sever her feelings for Takeo and accept Oda's feelings? Meanwhile, a girl other that Yamato has realized Takeo's appeal…!

5
February 25, 2014
July 7, 2015

Volume 5

List of Chapters:
Synopsis:

Takeo and Mariya are chosen to participate in the relay race for the athletic meet. While practicing together, Mariya ends up falling in love with him… Yamato is unsure of what to do about her new rival! Will Takeo and Yamato be able to overcome this crisis?!

6
June 13, 2014
October 6, 2015

Volume 6

List of Chapters:
Synopsis:

Now that they've been dating for just over six months, Takeo and Yamato finally have their first kiss! Meanwhile, Takeo's mom goes into labor, and something happens that makes her realize how much Takeo's grown… There's also a hint that love might be in Sunakawa's future…!

7
November 13, 2014
January 5, 2016

Volume 7

List of Chapters:
Synopsis:

Every year, Sunakawa receives chocolates from a mysterious "Yukika Amami." When the mystery girl shows up in person, she tells Takeo how she has loved Sunakawa for over ten years, and Takeo decides to give her his support! With Takeo's help, Yukika gathers the courage to talk to Sunakawa… But how will he respond to her feelings?!

8
March 25, 2015
April 5, 2016

Volume 8

List of Chapters:
Synopsis:

Takeo and Yamato spend their days deeply in love. Yamato invites Takeo to a date at her house, but what's in store when Takeo meets Yamato's family for the first time? Furthermore, Takeo now has a rival in love! What will the gentle giant do about his incredibly handsome foe?!

9
June 25, 2015
July 5, 2016

Volume 9

List of Chapters:
Synopsis:

Yamato starts working at a cake shop, where she meets a handsome pastry chef named Ichinose. Ichinose mistakes Yamato's kind-hearted actions for signs of affection, and he falls for her! What will Takeo do about this persistent rival?!

10
October 13, 2015
TBA

Volume 10

List of Chapters:
Synopsis:

11
February 25, 2016
TBA

Volume 11

List of Chapters:
Synopsis:
External links:
https://myanimelist.net/manga/36933/Ore_Monogatari?q=ore%20mono informations about the manga